There's nothing like scrolling through all of your photos for a year to make you realise how much has happened in 12 months; 40th birthdays, 66th birthdays, weddings, first days of school, international travel, trips to the beach, rain, sunshine, surf, posed portraits, spontaneous moments, and best of all…photos that make you sit back and think 'Man, I'm really happy with that shot!'
So of the 3,447 photos that made it through the culling process of this year, and the 192 that were given the coveted '5 star rating' in Lightroom, here are my 20 favourite photos of 2017.
Josh does his Felix Baumgartner impersonation
There is a decent period after you've bought new camera gear, when you are absolutely terrified of getting it wet/dusty/cold/hot. So you miss shots because you're not willing to take a risk. Then at the other end of the spectrum is when you've had a camera for so long that you'll wade into the ocean and takes shots not caring what happens to it…but also knowing, that its best days are behind it, so you may not get the shot you want.
But there is also a wonderful mid-point where you a camera will take the photo you want, and that you're willing to hang over your shoulder as you jump from one rock to another over waste deep water and then scramble up a rock tower to take a photo of your 11yo son jump from a feet-tingling height. I'm at that point with my Fuji XT-1…and it's a very happy place.
I was also really happy with this shot, as the tide was coming in and if we stayed much longer in that spot we were going to get stranded, and so I knew I only really had one chance to get it. So no pressure…no pressure at all.
Danny Ross at the 303 Bar
My brother in law, Will, was playing drums with Danny Ross for a show at the 303 Bar in Northcote. I will never pass up an opportunity to take photos of a band, because there are always moments in a live performance that give you an insight into who the musician really is, and if you can capture them…they usually make great images. Also, guitars are cool.
Over the course of the night I shot, wide, I shot tight, and shot from up high and down low, from outside and inside (no really I did), but it was this shot that I took between two people that really worked.  The two shoulders provide a perfect shadowy frame for Danny, plus the light is hitting him enough to illuminate his face under that distinctive hat…and he has an ever so slight rock n roll sneer on his face.
In truth, this photo is a mess in colour…but black and white really provides some focus!
Walkerville cave portrait
If you're new to photography and want to try to create a quick and easy 'arty' portrait, get someone to stand somewhere where it's dark but there is a single source of light (a recessed doorway, open garage door, or in this a cave with a hole in the roof), get them to look towards the light, and then expose your shot for their face (or just set your autofocus point for their face) and the resulting shot will knock out the background enough for you to make to their face really  pop…but with just enough ambience to give some context.
Of course you do still have to convince someone to crawl into a dark cave that smells of rotting sea-weed…but that's why you have kids!!
A440 (there is a prize to the first person who can explain this photo title…it's GENIUS!)
If you have ever tried to take a photo of someone giving a speech, you will know that what looks perfectly normal in real-life can look mortifying as a still image. The blink of an eye, the movement of someones mouth, or a gesture with their hand can make them look drunk, psychotic, lecherous or constipated. The same can be said for singers, although to a lesser extent because they tend to hold facial expressions and emotions a bit longer as they hit certain notes…and because they usually want to be singing, whereas people who are making a speech would usually rather be anywhere else doing anything else. So taking a photo of a singer is easier…but then when you add another singer, the difficulty increases exponentially…now you need to capture a moment where two people look great…then you add another person…and then another…and one of them is your wife…and it's her 40th birthday party.
No pressure…no pressure. Just capture an image in which all four people look great…and DO NOT STUFF THIS UP!
Fire twirling in North Melbourne
You know that feeling when you're at your best mate's 40.5th birthday and someone dressed in Polynesian attire starts doing tricks with two flaming balls…and you think to yourself 'How am I going to get a good shot of this?' Sure you do. It's a predicament as old as time itself. Just go for 1/6 second, at f1.4 on a 35mm.
If you're still saying 'Wait. WTF is a 40.5th birthday!' Then I think you and I can be friends.
Can you just sit there while I test the flash?
Any time I set up the flash for a portrait I ask one of the kids to sit in so that I can make sure it's going to work, my brief is always 'Just sit there, you don't even have to look at the camera'. The combo of a photographer who isn't telling someone what to do, and a subject who isn't trying to be anything but themselves…invariably leads to some of my favourite photos.
Channeling Alain Laboile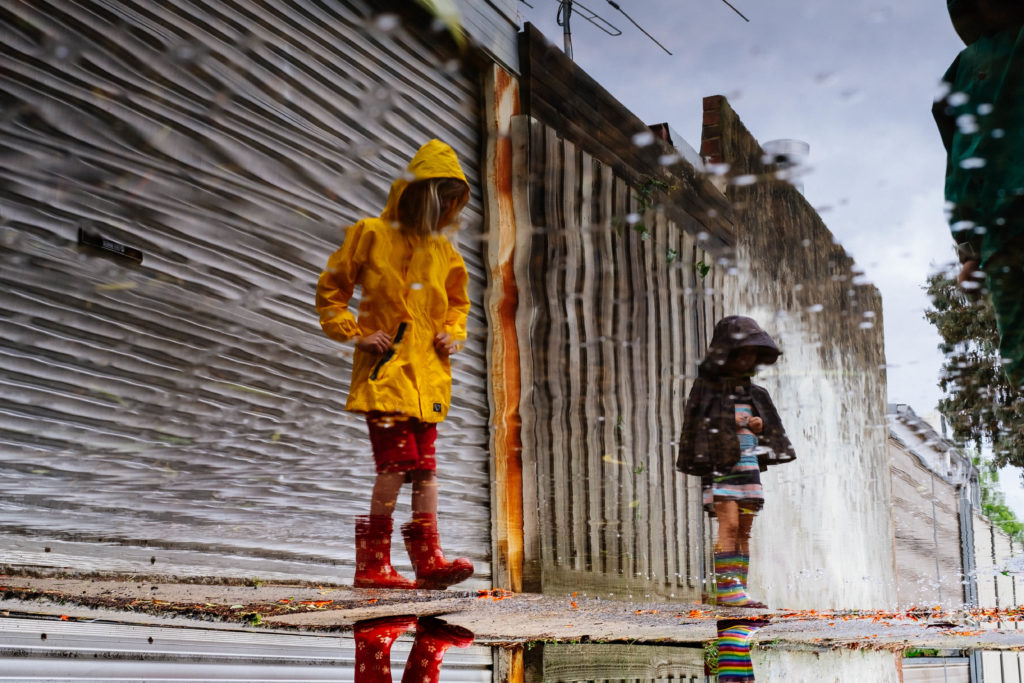 I shamelessly stole this from Alain Laboile's 'Reflexion autour du bassin' series where he took photos of the reflection in a pool of water, and then turned them upside down so that the photo looked like a distorted version of the real world. After a hefty downpour here in Melbourne, the lane out the back had some massive puddles…and the kids were dressed in rain jackets and gumboots. So I got may chance to create my own 'Reflection around the puddle' series.
Turin Brakes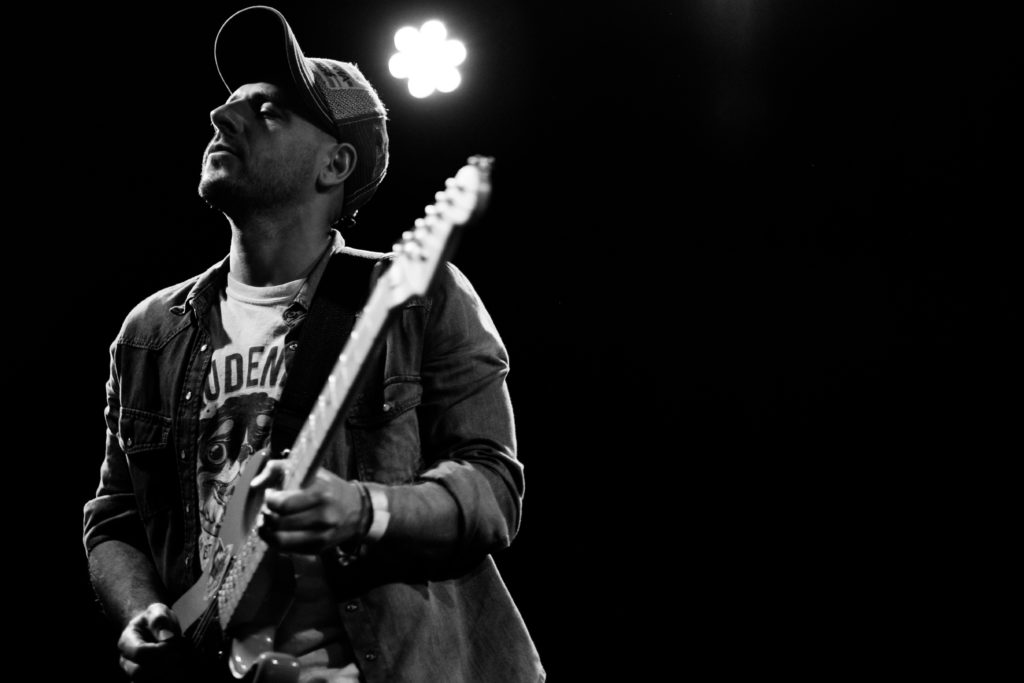 While I'm really happy with this photo, this one made the cut because I only got it by having the chutzpah to call a festival promoter and ask for a press pass so that I could shoot it. So I got to spend the first three songs right at the front taking photos of one of my favourite bands…and this shot further assuaged my guilt about buying the Fuji 56mm f1.2 lens.
In the surf with Josh
There are few places I love being more than in the surf. But with young kids, going to the beach becomes more of a 'let's build sandcastles and wade in the knee-deep water' than 'let's head out the back and try to catch some decent waves' experience.
But the body-boarding bug has bitten Josh, and he's now strong enough to venture out into the surf with me. In this shot we had made the decision to paddle furiously over a wave, rather then trying to duck under it after it had broken. It had been a close run thing, and we very nearly had the wave break right on top of us, but we'd made it and we were both very happy with ourselves…and the GoPro captured it.
Kids, France and trampolines
It took about 30 hours to get from Melbourne to Paris, and then a terrifying drive for 2 hours in the dark to get to our accom in Normandy. But when we woke up the next morning the kids discovered that there was a trampoline and took to it immediately. So this was among the first photos I took for our trip…and it was probably my favourite! Even though you can't really see either of their faces…you just know they're smiling from ear to ear. Because…well…tramampoline!
Normandy beaches
I would love to claim that I saw this scene and said "Holly, quickly go over there and climb that ladder and then hang off the handle at the top as if you're in a musical from the 1960's!" But in truth, I was pretty much waiting for her to get down so that I could take a landscape shot…and stop worrying about her falling off!
But as is so often the case, a landscape looks a whole lot better with a person in it, especially someone who can inadvertently strike a pose like this.
Tuba flamethrower
It's a man in a top hat, playing the tuba, with flames coming out of the top, in London…of course it made my top 20!
The test shot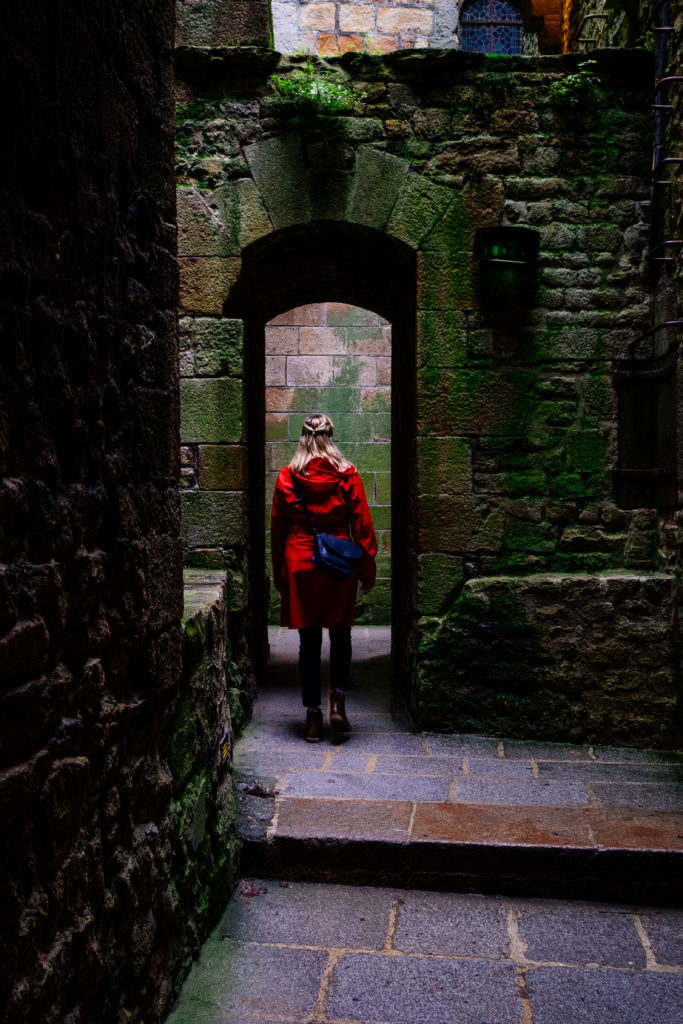 The plan was to get Katie to walk towards me and I would get the shot just as she came through the doorway, so I was just doing a test shot to make sure my focus was going to be right…and it turned out to be a much better photo than the one I had planned.
Mont St Michel
It's pretty hard to get a shot of Mont St Michel that hasn't been taken a thousand times, so here's one that hopefully only been taken 995 times. A friend of mine showed me this trick of holding a lens in front of the the camera and then taking a shot of what the lens can see.
A bird and an old man
We all got up early and made our way to the Old Man of Storr. When we got there we were one of 3 cars in the car park, so we knew we wouldn't be fighting off the crowds. We were however fighting one 6yo who wanted to make it very clear, that he didn't want to be there. The weather was also ranging wildly from foggy, to drizzling, to raining and all points in between. I only have one weather-proof lens and that's the 50-140mm, and I was having to stop pretty regularly to explain to the angry 6yo that 'No, this wasn't a stupid idea. No, I'm not stupid. No, everyone isn't stupid. No, we can't turn around and head back. No, that's not stupid.'
So this is a long way of saying that my photo options were limited…but when I saw this burn circling in the mist, I had a vision of a Tolkienesque image and was really happy with how it came up.
Highland coo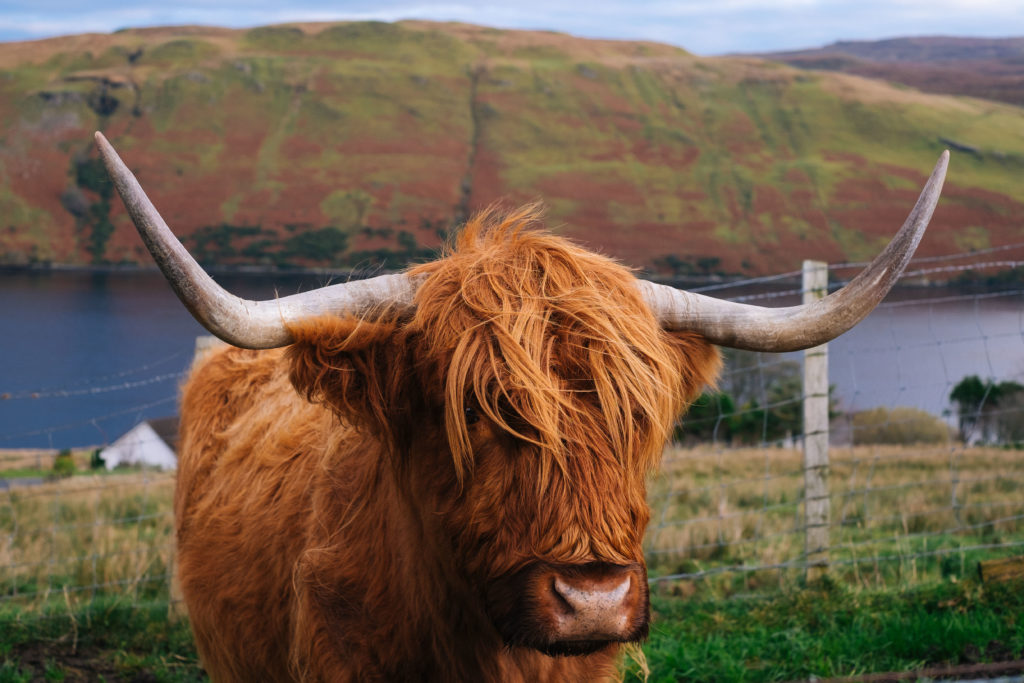 I love these cows. The look like the bovine version of the guitarist from a 90's shoe-gazer band. One of my goals for our trip up to the North of Scotland was to get a shot of one these fine beasts. But our drive from Glasgow to Skye, while offering some amazing potential cow action, was so fraught with traffic issues that the opportunity to just pull over and take a photo just didn't present itself. Having done a lap of the Isle of Skye and still not got a photo of a Highland Cow, I had pretty much given up all hope. Then on our way to our final stop on the Isle of Skye we came across this fine specimen just next to the road. So I hopped out and grabbed this shot, and all was right with the world.
Steam punk
There is something magical about trains, and I can see why they fascinate people young and old (by which I mean, very young and very old). From a photography perspective they are a dream. Everything is on a massive scale, there is polished metal, steam, light & shade, history, and some amazing faces. This is my attempt at capturing all of that in one shot.
The headless bass player of York
After pouncing on the first coffee place we found at 9am in the morning, we had been traipsing around York all day and by 4pm we were pretty keen on finding another coffee emporium. But despite having seen quite a few in the preceding hours, suddenly there were none to be found. As we left the market in the centre of town we could hear a band playing the opening bars of Franz Ferdinand's 'Take me out'. It's a testament to how good these guys were that I actually chose taking photos of them, over getting a coffee (and people who know me, will know that I very rarely choose anything over coffee…least of all complete strangers). But with that late afternoon sun acting as a backlight, and their energy & enthusiasm, I knew I would get something memorable.
The Mae Trio
The Mae Trio's 'Take care, take cover' was my favourite album for 2017…and that's really saying something when this year saw new albums from The War on Drugs, The National and Iron and Wine. So I was pretty excited about snapping some shots of them when they played at the Wesley Anne in Northcote. Sadly the gig was actually a farewell for one of the band (Anita) and so there was a mix of celebration and melancholy on the night. I feel that this shot captured that. I also know that I manually set the focus and waited for a long time to capture capture Maggie looking up and getting that little bit of light in her eyes.
I got some photos from the night that I was really happy with, and deep down hoped that they might see them and feel so inspired by them that they immediately wrote a modern-day folk anthem called 'Chris the remarkably good photographer'…but this hasn't happened…yet…probably because 'photographer' is a really hard word to rhyme with.
So there we go. I've travelled the world, but taken some of my favourite photos really close to home. I've shot a fair bit of music, and clearly love converting them to black and white. I've tried new things, and refined some other things. I've shot three weddings, and quite a few corporate jobs. I've left my day job of 11 years, gone back to working 5-days a week in a new job, and started a podcast project.
So it's been a big year, and I'd like to thank you all for your support…rest assured, I'll be back in 2018.